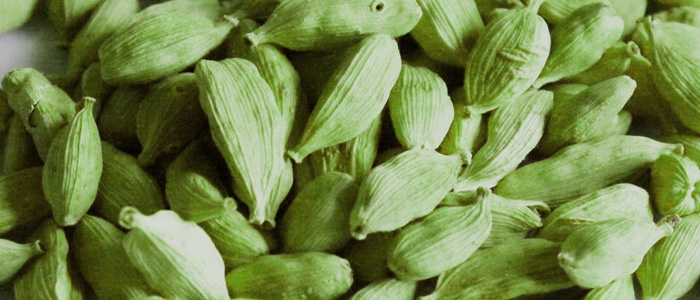 Pure Cardamom Essential Oil: An introduction
Cardamom is botanically known as Elettaria cardomomum o and is also referred to as Cardamomi, Cardomum and Mysore Cardamom. A perennial, reed-like herb, Cardamom grows wild and is cultivated in India and Ceylon. It has long, green silky blades, small yellowy flowers with a violet tip and large fleshy rhizomes, which truly resemble to Ginger. The oblong Gray fruits contain a lot of seeds.
Some History!
In ancient times the Egyptians very fondly used Cardamom in perfumes and incense and chewed it to shine their teeth. The Romans were believed to use it for calming their stomachs after food over-indulgence. As on date, it is an important ingredient in Asian cooking.
That 'Steamy' procedure…..!
The Cardamom seeds of about-to-get-ripe fruits are collected and exposed to steam distillation to obtain the pure Cardamom essential oil for us. This Cardamom essential oil has almost balsamic aroma, besides its characteristic sweet and spicy in fragrance. It comes in anything from colorless clear to pale Yellow shade and slightly watery in viscosity.
The Chemistry within!
This essential oil mainly constitutes of α-&β-Pinenes, Sabinene, Myrcene, α-Phellandrene, Limonene, 1,8-Cineole, Y-Terpinene, P-Cymene, Terpinolene, Linalool, Linalyl Acetate, Terpinen-4-oil, α-Terpineol, α-Terpineol-Acetate, Citronellol, Nerol, Geraniol, Methyl Eugenol and trans-Nerolidol.
'Blend Friends'
The Cardamom essential oil blends well with Bergamot, Caraway, Cedar Wood, Cinnamon, Cloves and Rose oils.
Benefits Galore!
The pure Cardamom essential oil brims with naturally healing and therapeutic properties. It is a famed anti-septic, anti-spasmodic, carminative, cephalic, digestive, laxative, diuretic, expectorant, stimulant, stomachic and tonic.
Cardamom oil is especially helpful as a laxative and soothes colic, wind, dyspepsia and nausea. It warms the stomach and helps with heartburn. The refreshing and uplifting effect of the Cardamom EO works wonders for mental fatigue and weakness. The pure Cardamom essential oil is a well-known remedy for impotence and low sexual response issues. Besides, it clears old coughs very effectively.
The vapor therapy of pure Cardamom essential oil is immensely useful for boosting the digestive system and curing coughs and fatigues. It is excellent in the bath, leaving you feeling refreshed and excited.
Where do I get the 'Best'?
The best quality and purest Cardamom EO can be procured with utmost ease from M/s AARNAV EXPORTS. The Team AARNAV offers excellent after-sales, timely deliveries across the globe, zero-pilferage and customized packaging and an unmatched customer-care at a very attractive, affordable and true 'value-for-money' pricing. You can assure yourself by checking out the company's accreditations on their website: www.aromaessentialoilstore.com/. See for yourself the softcopies of GMP (Good Manufacturing practices), WHO, USFDA, HACCP and ISO-9001:2008 certifications, which you might not have seen on other essential oil suppliers'/retailers' websites.